Woodbury Commons Outlet Getting There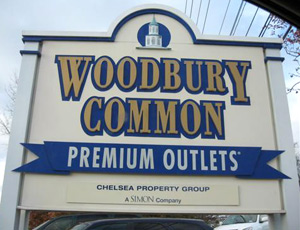 Woodbury Commons Outlet
Getting to Woodbury Commons outlet is easy, you just need to decided which mode of transportation you want to take. Since the outlet is so popular, not only among tourist, but also with New York residents, there are plenty of options to choose. You can rent a car and drive there so that you can go at your own pace.
Or take a bus (which many have coupon books for your you to use) and relax. Below are the different options available which include private and public transportation.
---
Directions and Transportation to Woodbury Commons Outlet:
View Larger Map
498 Red Apple Court
Central Valley, NY 10917
(845) 928-4000
---
BY CAR:
Woodbury Commons Outlet is located on Route 32 in Central Valley, NY. Please take a look at the map above and also note the address. The easiest thing to do if you are driving is just input the address into your GPS as it will take you straight to the outlet. From New York City, it's just an hour with no traffic.
If you don't have your own car, there are plenty of places where you can rent one. Below are a few places that will also give you special offers, if you tell them you will be visiting Woodbury Common Premium Outlets.
---
BY BUS:
Below is a list of buses available that will get you to the outlet, and many include free coupon books.
Gray Line New York
The bus operates 7 days a week, but there may be exclusions on some holiday. Check the site for details and also for departure times and locations.
Manhattan Transfer Tours
Their number is (347) 495-8577, or click above for more information.
The Party Ride Limo Bus
Their number is (866) 275-5466.
---
BY SHUTTLE
If you would like to be picked up from your hotel or home, you can grab this shuttle that will take you to the outlets.
---
BY TRAIN:
MTA Metro-North Railroad
Weekend transportation to Woodbury Common.
---
BY TAXI:
Monroe Taxi
(845) 782-8141
Village Taxi
(845) 783-6112
---
BY LIMOUSINE OR PRIVATE LUXURY VAN:
NYC Limo Pickups
If you really plan on shopping and want a lot of space, then book a private limo and go in style. You can call  call (718) 593-9446 or reserve online.
---
BY HELICOPTER:
Liberty Helicopter
Yes, you can even get a helicopter! Imagine the view on your way to outlet. For an unforgettable ride, you must book 48 hours prior so please call (908)474-9700 for reservations.
back to top